Have a problem with Outlook starting to run very slowly or getting an error message while using it, then there are many chances Outlook PST (Personal Repository Table) file is damaged or broken Wondering how to fix a problem .pst file and recover Outlook items? The best and easiest way to do it is to get it done with the Stellar repair tool. This Outlook repair software is very powerful and reliable for repairing damaged PST files. It is a very advanced repair tool that only once scanned, detects and recovers severely damaged or corrupted PST files.
With this, you can also recover permanently deleted emails and complete attachments and formatting. It can also recover Outlook files of any size and repair them with 100% accuracy while maintaining data integrity.
Why use the Stellar Repair tool for Outlook?

An outlook is a useful tool, but there are still cases where things go wrong. There are many different reasons, for example, unexpected computer power failure, virus or malware infection, or program failure due to an unknown error. So in this situation, it is good to have Stellar Repair Tool for Outlook as a backup. This feature-packed tool is 100% reliable for recovering and storing mailbox information from corrupted PST files. This Outlook PST Repair Tool can be relied upon whenever PST files get corrupted or damaged, PST files become too large, Outlook file signs of performance issues, or Outlook encounters an error in the data file. Many professionals and MVPs trust the stellar Repair tool for Outlook and IT administrators worldwide.
Key Features of Stellar Repair for Outlook Tool?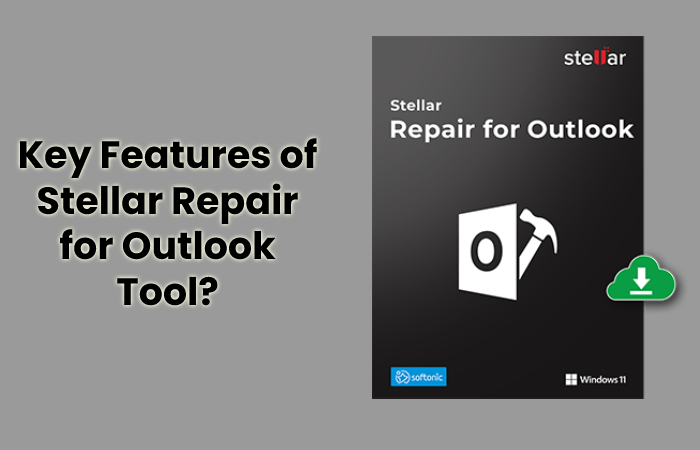 Oversized PST File Repair & Restore
Stellar Repair for Outlook can recover small and large files with 100% accuracy. This stellar repair tool is designed with an advanced algorithm and thus easily scans severely damaged PST files. You can recover large damaged PST files without limitations or technical issues.
Recover Deleted Mailbox Items
The software scans damaged PST files and recovered emails and other deleted mail items from Outlook. Also, a powerful recovery algorithm of the scan tool recovers the deleted items before the PST file was damaged. And once the repair process is complete, the software displays a preview of the remote mailbox as the repair process completes.
File Saving Options
This software also allows you to export mailbox data in EML, MSG, PST, RTF, HTML and PDF formats. This is a unique and handy feature as it will enable file transfer. Users can also save the recovered file to any preferred location despite this. Internal system storage, network storage and external hard drive.
Split & Compact PST Technician Edition
Stellar's Repair for Outlook also offers Split & Compact PST files with Technician Edition software. This advanced and latest feature helps optimize Outlook performance, improves manageability, and reduces the likelihood of corruption. The technical feature of the edition allows you to export mailbox data from the pst file to office 365.
Quick and easy recovery
Immediately after scanning corrupt files, it allows you to repair any level of corruption quickly and will enable you to save data to a DAT file. Later, you can download the DAT file into the software and restart the PST recovery process without rescanning the PST file. This allows you to perform the repair process in two different stages.
User Interface
Interface Stellar Outlook Repair Tool is Very simple and easy to use. Using and recovering damaged PST files is very easy, and it involves a 3-step process. And here, you need to choose PST, run recovery and save the repaired PST file to your desired location.
Advantages: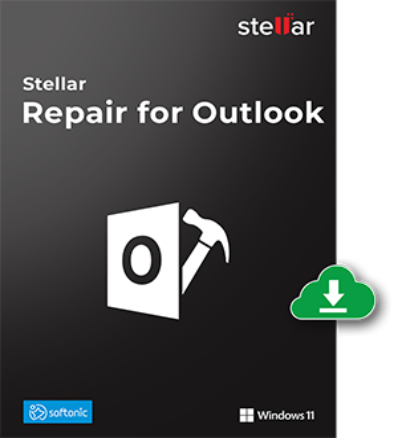 Support for the latest version of MS Outlook 2019
user-friendly interface
Support 5 languages ​​English, German, French, Italian, Spanish
It also recovers emails, contacts, calendars, attachments, tasks, and deleted items.
Supports export of repaired PST files for Office technicians
Steps to repair Outlook data file (.pst) using Stellar Repair for Outlook
Looking for the steps to repair your Outlook, Make sure you follow the below mentioned steps:
Step 1: Download & install the Stellar Repair tool for Outlook software.
Step 2: Launch Stellar Repair Tool on your device.
Step 3: In the 'Select PST File for Repair' window, click Browse or Search to select the PST file you want to repair
Step 4: Click Repair to start the scanning process. The scanning time may exceed depending on the size of the PST file and the severity of the damage. The software interface gives you the option to stop the scanning process by clicking the 'Stop' button on the Repair PST File dialogue box.
Step 5: After completing the scanning process, all the recovered PST file items (folders) will be displayed in the left pane of the preview window. Click on a particular item (folder) to see its content in the middle pane and its details in the right pane. And to save the repaired PST file, click the Save Repaired File icon on the Start menu
Step 6: In the Save As window, select PST in the Save As section
Step 7: Click Browse to choose the destination path where you want to save your repaired file
Step 8: Click OK
Step 9: In the Save in a progress window, you can check the current status of the file saving process.
Step 10: When prompted, click OK, and the repaired file will be saved to the specified location.
Conclusion:
That is to say, Stellar Repair for Outlook is all about. Here I have tried to list essential points of this best Outlook recovery tool. In my opinion, this is a valuable tool and should be used if you encounter Outlook PST file corruption or any errors. We hope you find the above content informative and helpful, keep visiting our website to read more informative articles.