How to Rank Up in Valorant? – Valorant is an online 5 vs 5 multiplayer-based competitive game. It's a character base FPS game where you have to choose an Agent who has a set of abilities which you then use according to your skills to win the game.
The game was first teased with the codename "Project A" in October of 2019. The game was officially released on 2nd June 2020 and never looked back. Unlike CS:GO, which is a very popular game itself, Valorant offered a new way of competitive gameplay with multiple Agents, each of which with different sets of abilities. In this post, we'll talk about the tips and tricks the professionals use and much more.
Aim Training and Deathmatch:
In every competitive game, having a good aim is a key to quickly ranking up. Of course, there are other factors too such as game plan, strategy, movement, recoil control, communication with the team, and execution. But still, the aim is on top of all. Having a steady and consistent aim can give you the confidence to peak at difficult spots and a greater chance of winning the game.
When you are shooting keep your eyes on the crosshair and see when you spray how moves up. That'll give you a greater understanding of controlling it. Prefer burst fire rather than tapping or spraying. And always shoot still, don't run and gun. Shooting while running makes your crosshair unstable. Another great piece of advice would be to play aim training games.
Watch Pro Scene:
If you want to learn something, the best way to do so is to learn from someone who is an expert. The same goes for Valorant. If you don't know how to do something properly, you might learn it wrong, and mess up the learning process in the very beginning. That's why it would be smart to follow Valorant pro scene, watch how professionals play, how they aim, what they do, and try to copy it. After you learn how to do it right, then you can go practice.
So, make sure to watch professional matches and try to figure out exactly why are the professionals doing what they are doing. You can learn new tricks, steal crosshairs, see how to use Agent abilities properly and learn about Valorant competitive gameplay.
Communication and Team: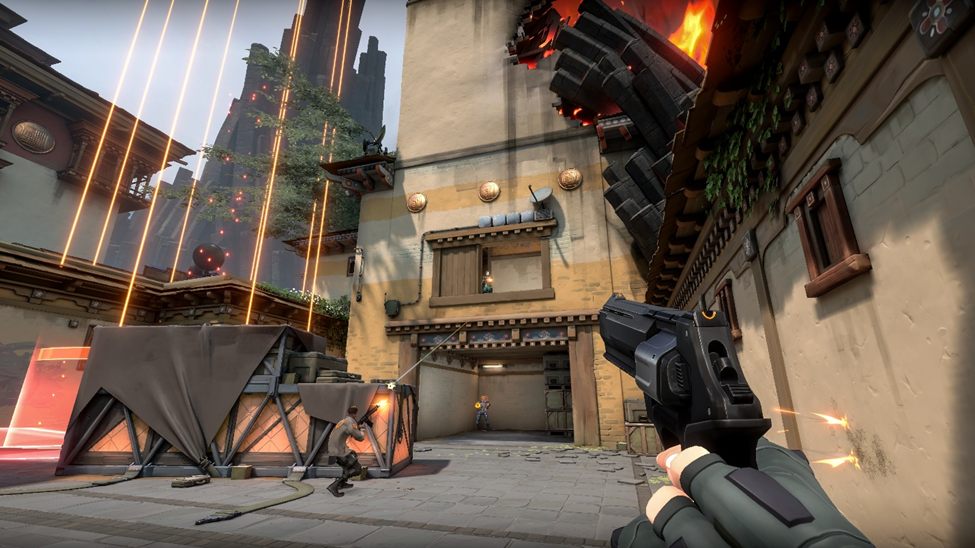 Once your aim is consistent and you feel confident to take on your fights, now comes the time to know that it's a multiplayer game. You are supposed to play a 5 vs 5 match to rank up. So, communication is the key. You must communicate well with your team and give them the right calls. You don't have to rush alone where there are multiple enemies and you know you can't kill them all. Always wait and call for your team and work as a team. You cannot rank up if your team is not cooperating or not at your skill level. Make sure you are kind and not toxic while communicating with the team.
Play Fewer Matches:
New players tend to play more and more games in order to rank up fast, but they end up losing more. If you are really passionate and serious about ranking up, you must try to play with the same team on regular basis. You don't have to spend hours and play as much as you can. You just play 3 games a day and make them worth your time.
Chose the Right Agent:
Choosing the right Agent is also a crucial part of ranking up in Valorant especially when you are starting out. I know you have seen many YouTubers just randomly playing with whatever Agent they click on. But trust me they are professionals who have spent many years in the game. So this is very important to select the Agent accordingly. You don't have to pick a duelist if your team already has 2 duelists. You should go with a controller or a sentinel.
Conclusion:
These are just a few tips and tricks we just shared with you otherwise, it would have been so long. These are a few but the most important tips for the player who is just starting the game and making their way to the top. Get  Better valorant hacks from lavicheats today.  We hope you have learned something new today.