Networking is vital to your business's success. While working, you'll often find yourself on the phone adding someone to your network. But with all the phone numbers you need to store, it becomes impossible to store all your contacts in one place conveniently. Luckily, this is where a contact management system (CMS) comes to your aid.
CMS stores data electronically, making it easy to share essential information among team members when required. The software gathers information continuously for successful interaction between business owners and customers. As a result, many businesses install CMS to maximize productivity.
For more insights, here are five industries that can benefit from contact management software. In addition, you can find the best comparison between headless vs coupled vs decoupled cms on tiiny.host.
What Is Contact Management Software?
A contact management system or contact management software is an application with a search interface used by businesses and individuals to store existing and potential client contact details conveniently. The contact details you can store on the CMS include names, phone numbers, and email addresses.
CMS uses automated systems to enter lead and customer data for easy access and editing. You can think of it as a virtual address book. It can be basic, like a spreadsheet, or complex, like a customer relationship management system (CRM).
Most people use contact management and customer relationship management interchangeably. Although they have a lot in common, the two software have different functions. CMS offers standard features, while CRM provides advanced marketing and sales integration tools. And despite their differences, they overlap in some areas.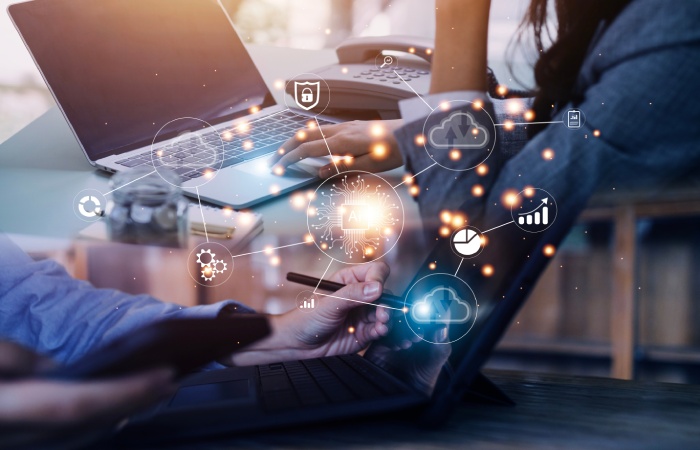 Contact management software can easily track someone's name, employer, location, and email. And by digitizing your contact management system, your employees can readily access clients' valuable data.
Contact management software enhances communication and allows you to focus on your clients as much as business operations. Like call center systems, CMS ensures that employees meet and exceed customer expectations.
CMS is crucial for businesses as it allows efficient handling of valuable customer information ideal for growing a business. Today's market environment requires one to do more than just sales.
Customers prefer purchasing products from companies that understand their preferences. As a result, having contact management software is crucial to the success of your business in the modern world.
What Industries Benefit From Contact Management Software?
Using contact management software does offer value to various industries, and this includes:
Retail And eCommerce Industry
The retail industry involves the sale of goods and services. Its primary goal is to attract customers via advertisements and marketing. The sector's growth depends on customers' habits.
Retail and eCommerce industries share activities performed by various departments, such as supply, production, finance, database, and operation. And with effective CMS in place, you can set goals and establish different measures and processes that will make it easy to achieve your goals.
In the retail and eCommerce industry, CMS offers the following benefits:
You can access valuable information on the best- and least-selling products, making it easy to optimize your business by getting rid of the least-selling products. This allows you to restock the best-selling products.
It makes it easy to store your clients' information.
You can track your customers' interactions. You'll know how a client interacts with your products and the number of leads converting into clients.
Healthcare Industry   
To ensure high-quality service, patients and healthcare providers have to work together. CMS enables healthcare providers to care for patients more efficiently by optimizing, organizing, and synchronizing patients' information.
The CMS analyzes patient information through patient care flow and automates the process. The software makes it easy to:
Access patient data
Schedule the next appointment
Provide access to patients' diagnosis record
Cancel appointments
Reduce administrative errors
With effective CMS in place, it becomes easier to offer better health services to patients. The software is designed to make the healthcare sector more efficient.
Real Estate Industry
Contact management software has become a must-have system in the real estate industry. For a real estate company to succeed in the modern-day business environment, it has to run on the CMS concept. This software is vital in maintaining a stable and long-term relationship with clients.
As a realtor, consider using CMS to establish a successful relationship with your clients and monitor their progress. With a CMS solution, it becomes easier for you as a business owner to get in touch with them. This will help you efficiently and conveniently manage your business's sales and marketing and improve your clients' satisfaction.
When using contact management software as a realtor, it becomes easier to:
Showcase houses
Organize meetings
Deal with your customers and the property owners
Respond to emails and phone calls
You can automate all these functions with excellent contact management software. It will also make it easy to detect issues in your sales strategies and evaluate your performance.
Financial Services
All financial services, including central and commercial banks, should use CMS. Any financial service provider that uses an effective CMS solution can significantly benefit. The software helps improve profitability by boosting efficiency.
CMS improves security, enhances compliance, and cuts down training costs. It has also made it easy to identify high-value clients and create targeted offers, making it beneficial for use in financial services.
Effective CMS helps financial services win clients' trust and achieves that via automating processes and streamlining tasks. Using CMS as a financial service company guarantees the following benefits:
Smooth digitized processes and customer interaction
Access to clients' data and preferences that make it easy to customize the whole experience for clients
Ability to convert clients' complaints and support tickets into opportunities that allow the company to build loyalty among customers
Hotel Industry
Improving efficiency is vital for the success of a hotel, and with CMS, you'll achieve that with utmost ease. Most hotel owners use CMS to enhance the guest experience. Customer service is the most valuable factor in the hospitality sector, and CMS comes in handy here.
Almost all successful hotel businesses store their guests' information. This is vital as it helps them better understand their customers' habits and preferences. It makes it easier to offer personalized products and services that align with their needs and preferences.
With effective CMS, it becomes easy for hotels to manage their potential and existing guests' data efficiently. As one of the most crucial tools for hotel businesses, CMS helps them to:
Ensure efficiency and improve customer experience, hence building loyalty
Design marketing campaigns, allowing them to reach out to their target audience
Find new leads and convert them to clients
Store guest data for a personalized experience
Takeaway
Contact management software has revolutionized how businesses handle and leverage valuable data across various industries. The success of your business depends on the efficiency of its processes and operations. Working with an effective CMS solution makes it easy to improve your business's chances of success.
CMS can help you manage your everyday tasks and improve your clients' experience. And irrespective of the type of business, CMS software will always come in handy. If you find it challenging to grow your business because of operational setbacks, you can always turn to CMS and watch your business grow in no time.