Lumonitor – Portable monitors have become an integral part of various spheres of life. Whether you're a gamer or professional coder, you could use an extra screen to speed up your work and boost your performance.
Luckily, there's a product that perfectly meets all your needs – Lumonitor. Each component of the device is extremely well-designed, and the item is very user-friendly. To give you an idea of just how powerful this machine is, we're about to cover all its major attributes.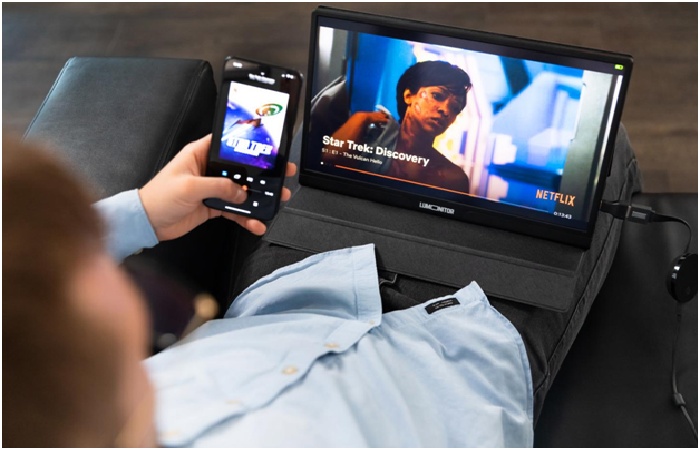 Lumonitor's Features
Buying one or more Lumonitors is one of the wisest decisions you can make, regardless of your profession. Here's what the gadget brings to the table:
4K Screen
Lumonitor comes with a 15.6-inch 4K ultra-HD display. The depth and clarity are impressive. You get a fully immersive experience when watching movies or TV shows, and you can also deliver stunning presentations by connecting Lumonitor to another device.
There's also a super-bright LED. The model features twice as much brightness as other solutions and features an amazing color range. Moreover, feel free to use your device in direct sunlight since there will be no reduction in quality.
Helpful Touchscreen Display
Lumonitor features cutting-edge touchscreen technology named PinPoint touch. It gives you accurate touch responses, providing greater control over your movements. In addition, the response time is minimal (under 10 milliseconds), making it a seamless solution.
Slim and Light Design
Gone are the days when you had to carry around bulky monitors to connect other devices. You can now opt for Lumonitor, which is the lightest (1.3 pounds) and slimmest (about six millimeters) option on the market. It takes up minimal space in your backpack or laptop case, making it travel-friendly and highly portable. Wherever you want to go, Lumonitor can go with you.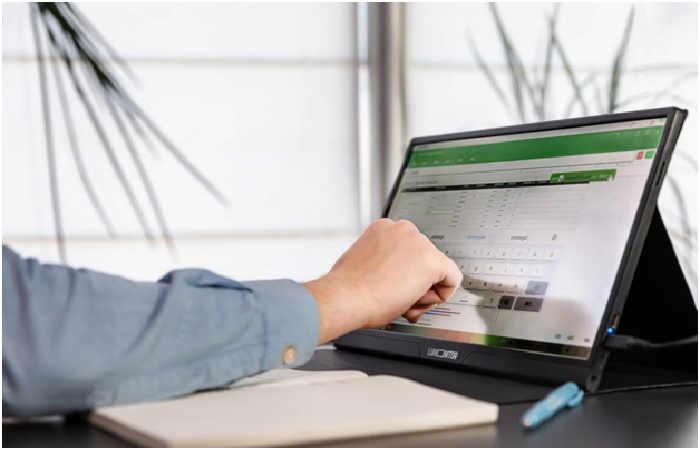 Plug and Play
With Lumonitor, you don't need to burden yourself with any setup or installation to fire up the monitor. All you need to do is connect the device to another machine, and that's all there is to it. Since the gadget comes with an integrated battery, Lumonitor will always memorize your settings and preferences.
Universal Compatibility
Lumonitor is compatible with practically any device imaginable, outperforming the competition in yet another aspect. Whether you want to use a smartphone, tablet, laptop, desktop computer, Chromecast, PlayStation, or Xbox, Lumonitor will enable it. The machine comes with a multitude of valuable ports, such as HDMI, USB-C, 3.5-millimeter AUX audio jack, and micro-USB.
Built-In Stereo Speakers and Battery
Another great thing about Lumonitor is the integrated Hi-Fi speakers. You get deep bass and dynamic audio, so you can watch TV shows, movies, and play video games with crystal-clear sound.
Furthermore, Lumonitor also eliminates the need to drain the power of connected devices owing to the built-in battery. The item comes with 4000 mAh that can give you four hours of service, enough to complete all your tasks without interruptions. Not only that, but you can also use [Lumonitor] as a power source for other gadgets, like your smartphone and tablet.
Lumonitor Won't Let You Down
Lumonitor boasts incredible prowess in all of its components. No other portable computer can match the combination of excellent resolution, touchscreen capabilities, and compact design. Make sure to grab one or more pieces by going to this webpage. You won't regret it!