How To Compress a PDF for Email? – Email is a common way to communicate with colleagues, but it has limits like size of attachments. Gmail and Yahoo allow 25MB attachments while Hotmail and Outlook only allow 10MB. When PDF files are too big to send by email, this article gives four ways to reduce their size.
How to Compress PDF Online for Emailing
With PDFgear's free online PDF compressor, optimizing your PDF files is a breeze. Utilizing MRC technology, it offers maximum fidelity with impressive compression results – all without requiring any downloads or registrations.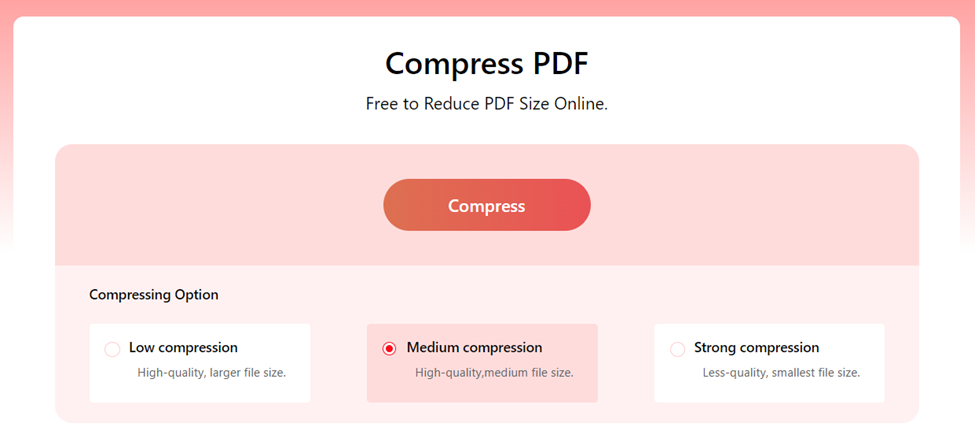 Step 1. Import the PDF file
Simply access PDFgear online PDF compressor through your browser, import your PDF by clicking the "Choose files" button or dragging and dropping it into the tool.
Step 2. Choose the compressing option
Then, select from the three compression options: low, medium, or strong. The higher the compression level, the smaller the file size.
Hit the "Compress" button after you made your decision.
Step 3. Download the compressed PDF file
In just a matter of seconds, the compression process will be complete. You can save the file to your device with a click of the "Download" option.
How to Compress PDF on Mac/Windows
PDFgear is a free and easy-to-use PDF compression software that can easily reduce PDF file size without compromising quality. Users can manually compress PDF files using the three flexible compression modes provided, depending on the original file size and desired output quality.
Whether you are a Mac user or a Windows user, you can use this software to compress PDF files to a size that can be sent via email.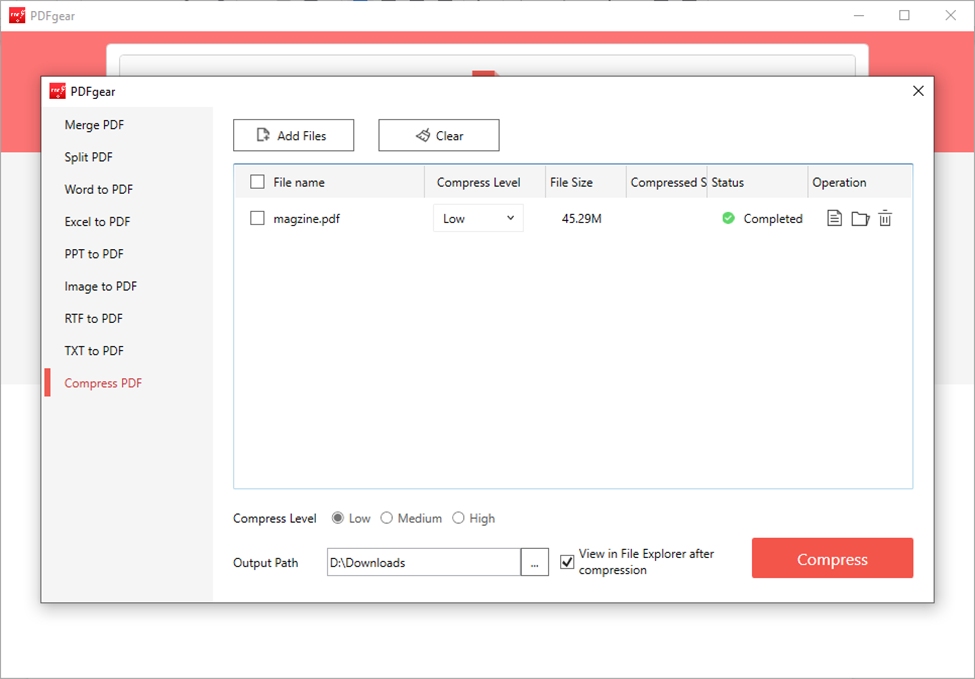 Step 1.  Download and install PDFgear
To start compressing your PDF files with PDFgear Desktop, simply install and launch the tool, then access the PDF compressor in the toolkit.
Step 2.  Set up for compressing
Import your PDFs by clicking the "Add Files" button at the top, and specify your desired output path.
There are three compression levels: Low, Medium, or Strong. Keep in mind that the higher the compression level, the smaller the file size will be.
Step 3. Hyper compress PDF files
Once you've made your selection, hit the "Compress" button, and you'll be directed to the output folder once the compression process is complete.
How to Compress a PDF in Preview on Mac
Preview is a built-in application on OS X that can meet most of your basic PDF needs. You can also use it as a free method to reduce PDF files on Mac, it just reduces the size of PDF with good quality by Quartz filter.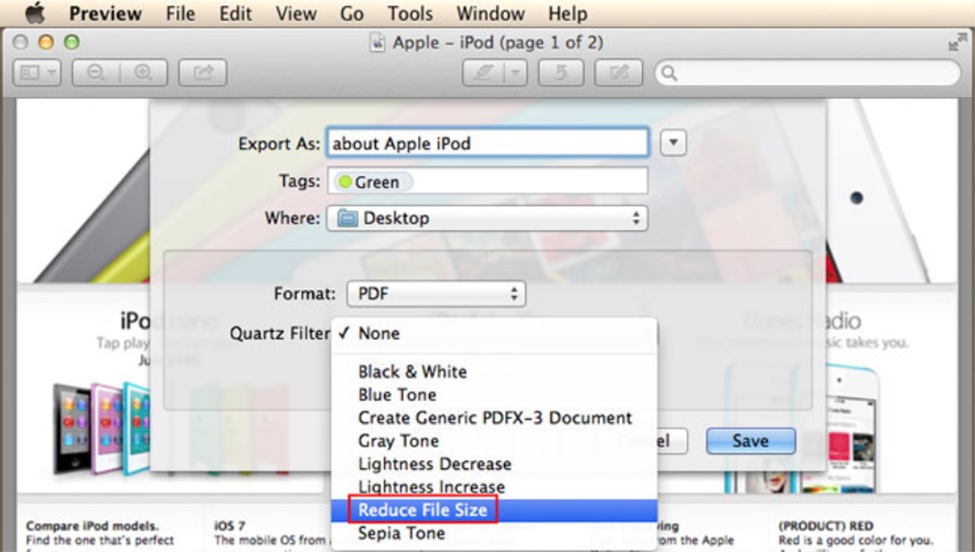 Step 1. To reduce the size of your PDF file on a Mac, open it in Preview, which is the default PDF viewer.
Step 2. From the menu bar at the top, click on "File" and select "Export" from the drop-down list.
A window will appear that will guide you through the process of reducing the size of your PDF.
Step 3. Rename your file and select "Reduce file size" from the "Quartz Filter" drop-down list. Finally, simply click "Save" to have a smaller PDF file on your Mac.
How to Compress PDF File Size in Word
When creating PDFs using Microsoft Word, the "Save As" option will generates a relatively small file size. If you find that the PDF created by Word is still too large, there is an extra option in Word that can help ensure the file size is as small as possible. Here's how it works in Word 2019, 2016, and 2013.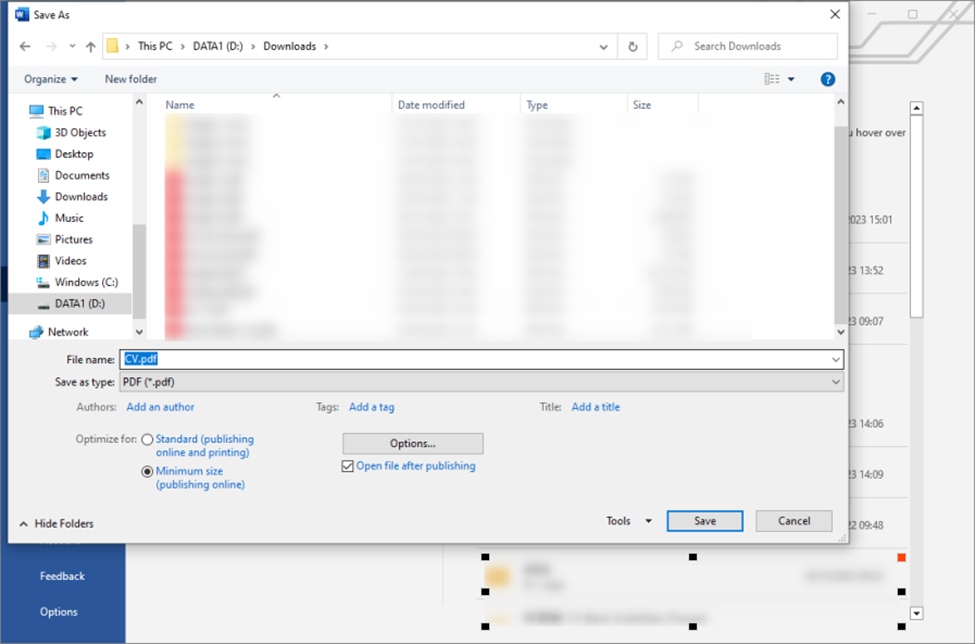 Step 1. Open the Microsoft Word, then choose to open the PDF file you want to compress in the Word program.
Step 2. Next, navigate to the "File" menu, and select "Save As" in the left panel.
In the pop-up window, choose "PDF(*pdf)" from the  "Save as type" dropdown menu and name the newly created PDF file.
Step 3. Under the "Optimize for" option at the bottom of the dialog box, select "Minimum size (publishing online)" to ensure a small file size. Then click the "save" button, you will get a new PDF with smaller size.
Conclusion
There are four simple ways to compress PDF files for sending via email, and you can choose any one of them. But when it comes to compressing large files, using professional PDF compression software is undoubtedly better than relying on online compression tools. After all, the performance and speed of online PDF compressors are not comparable to desktop tools.