How Does EV Code Signing Certificate Work? : A well-proficient developer always knows the importance of an EV Code Signing Certificate. This certificate is a renowned and quite important document that comes in a complete package with all the standard benefits of digitally signed code plus a rigorous vetting process and hardware security requirement. Your users can put more trust in the integrity of your applications. Besides, there is a Windows SmartScreen recognition.
Now you know the basic definitions, you must be curious to know how the entire process happens? How does it work actually?
Let me take you through the process. The process is from Validation to Signing.
EV Code Signing Certificate Process
Extended Validation
When you purchase or order your EV Code Signing Certificate, the validation is an intensive process. Certificate Authorities will put you through a rigorous vetting process to ensure that you are a legally registered entity operating in good faith. A company that provides complete and sound registration information, will succeed to pass through the validation process.
Additional Security Layer
After issuing your Comodo EV Code Signing Certificate, we physically mail the private key to you on an external hardware token. This process secures you from unauthorized access. Compromised private keys are misused for signing malicious software that can spoil your reputation. When your private key is stored on an external hard drive, it prevents anyone from illegally accessing it on your network.
The Process
To make the entire discussion easy and adaptable, you can refer to the below image. It will help you in understanding the entire process.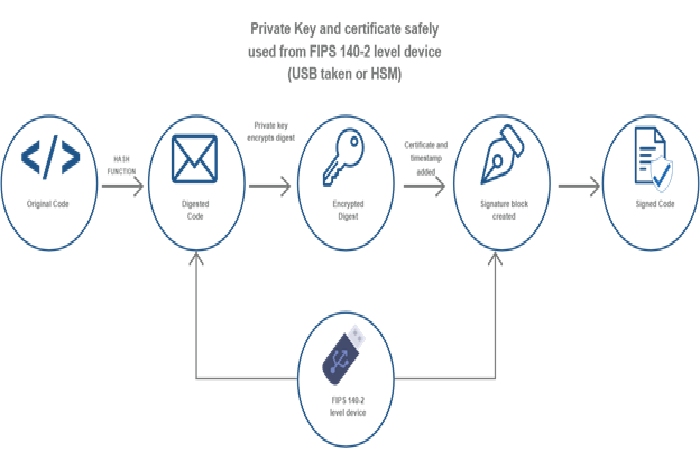 CODE SIGNING PROCESS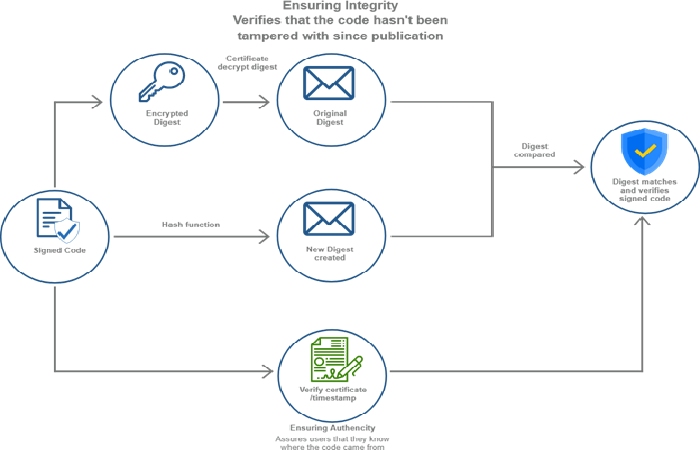 CODE VERIFICATION PROCESS
Hashing
Soon after you create the software, you need to hash it. The hashing process ensures the users that your software is trustworthy and has not been tampered with. For example, in the process of downloading the software, if you fail to produce the right hash value, it gives the sign to the browsers that the process is compromised.
Signing
The moment hashing is done, you need to take the signing process as the next step. You need to make use of the external USB token that is provided. You must use it for accessing your private key for digital signature and to timestamp your software. Hence, this process lets the browser know the publisher's identity who has created the software and also can find out whether the publisher is trustworthy or not.
Download
After hashing, signing, and timestamping gets completed, the third step is to get ready to post it for download. At any point in time, when the user or customer attempts to download your signed software, their browsers will immediately identify that you are the publisher of the software. It will also get to know that your software is tampered with or is trustworthy enough beginning from its signing process.
Wrap Up
Extended Validated Code Signing Certificate can give you an extraordinary benefit of an instant reputation of your application in Microsoft SmartScreen. Once you undergo the process and get your software signed, it is all ready to access. Microsoft will view your software as a reputed company. The result would be, you will get higher conversions and a deeper trust of your customer in your brand.